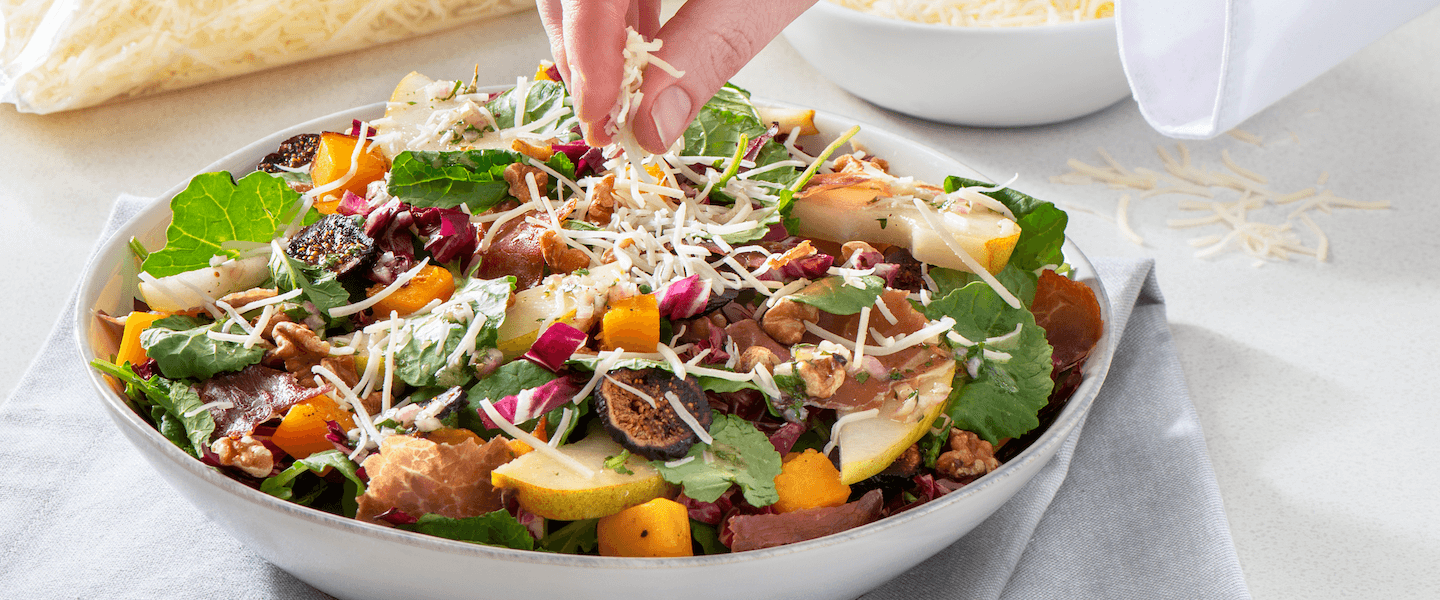 Total Time: 50 Mins
Prep Time: 25 Mins
Cook Time: 25 Mins
Serves: 6
Ingredients
Vinaigrette:
1/4 cup (60 mL) olive oil
2 tbsp (30 mL) finely chopped fresh parsley
2 tbsp (30 mL) cider vinegar
1 tbsp (15 mL) brandy
2 tsp (10 mL) honey
1 tsp (5 mL) Dijon mustard
1 tsp (5 mL) balsamic vinegar
1 shallot, minced
1/2 tsp (2 mL) each salt and pepper
1/4 tsp (1 mL) dried oregano
Salad:
4 cups (1 L) diced butternut squash
3 tbsp (45 mL) olive oil, divided
1/4 tsp (1 mL) each salt and pepper
8 slices prosciutto
4 cups (1 L) baby kale
4 cups (1 L) shredded radicchio
1 cup (250 mL) Galbani Professionale ® Asiago Shred
1/3 cup (75 mL) chopped toasted walnuts
6 dried figs, sliced
1 pear, cored and sliced
Directions
Preheat oven to 400ºF (200ºC).
Vinaigrette: Whisk together oil, parsley, cider vinegar, brandy, honey, mustard, balsamic vinegar, shallot, salt, pepper and oregano; set aside.
Salad: Toss butternut squash with 2 tbsp (30 mL) olive oil, salt and pepper; arrange in single layer on baking sheet. Roast for 20 to 25 minutes or until tender. Let cool slightly.
Meanwhile, heat remaining oil in large skillet set over medium heat. Cook prosciutto slices for 1 to 2 minutes per side or until crispy. Break into shards.
Toss together baby kale, radicchio and vinaigrette; gently fold in prosciutto, Asiago, squash, walnuts, figs and pear.
Cooking Tip
Substitute apple for pear if desired.