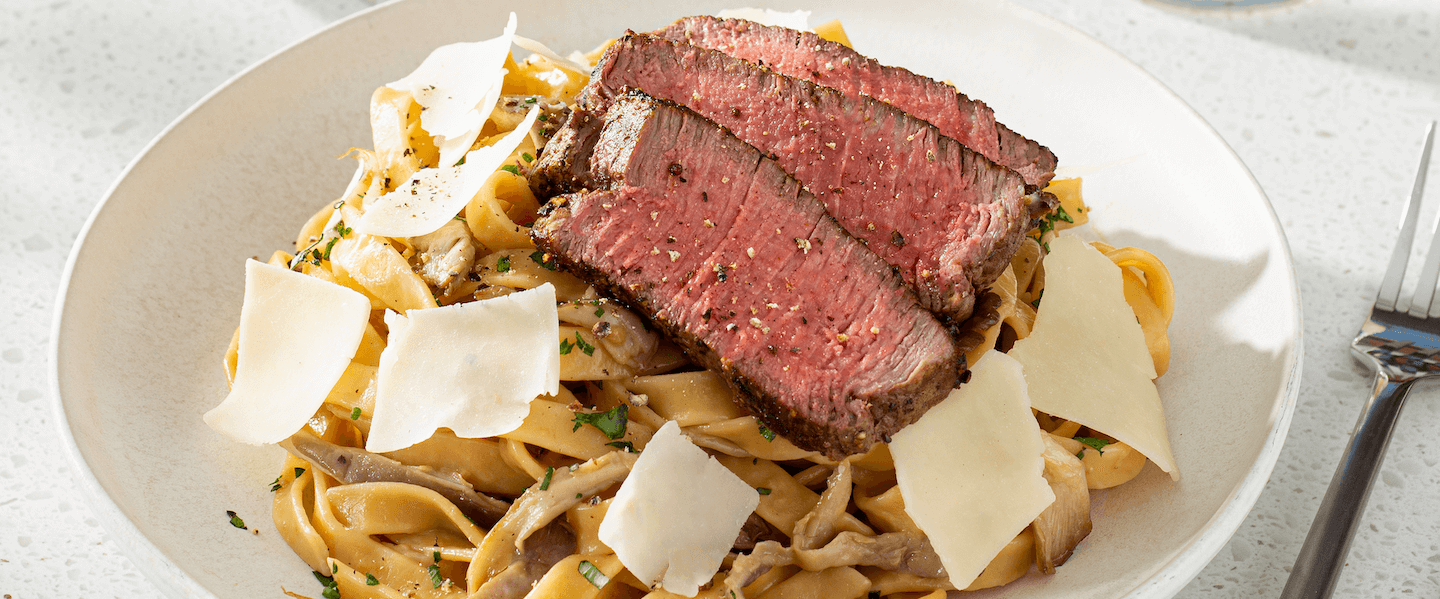 Peppercorn Steak Fettuccine
Total Time: 40 Mins
Prep Time: 10 Mins
Cook Time: 30 Mins
Serves: 1
Ingredients
4 oz (125 g) fettuccine
5 oz (150 g) beef tenderloin medallion
1 tsp (5 mL) crushed mixed peppercorns
1/4 tsp (1 mL) salt
4 tsp (20 mL) butter
3 oz (90 g) oyster mushrooms, torn into strips
1 shallot, diced
2 tsp (10 mL) finely chopped fresh thyme
1/4 cup (60 mL) brandy
1/4 cup (60 mL) demi-glace
1/4 cup (60 mL) 35% whipping cream
1/2 cup (125 mL) Galbani Professionale® 3 Cheese Shaved (Asiago, Romano + Parmesan) (2.2 oz), divided
1 tsp (5 mL) each finely chopped fresh parsley, tarragon and chives
Directions
Cook pasta according to package directions; drain, reserving 2 tbsp (30 mL) cooking liquid.
Season tenderloin with peppercorns and salt. Let stand for 10 minutes. Melt butter in skillet set over medium-high heat; cook tenderloin for 2 to 3 minutes on each side or until golden brown. Remove from pan; let stand for 5 minutes. Toss mushrooms, shallot and thyme into pan; cook for 3 to 5 minutes or until mushrooms release their juices.
Add brandy; cook for 1 to 2 minutes or until reduced by half. Stir in demi-glace and cream; bring to boil. Cook for 1 to 2 minutes or until mushrooms are tender and sauce is thickened.
Add pasta, reserved cooking liquid and half of the cheese; toss until pasta is well coated.
Top with remaining cheese; garnish with parsley, tarragon and chives.
Cooking Tips
Use fresh fettuccine noodles if desired.
Substitute cognac for brandy.