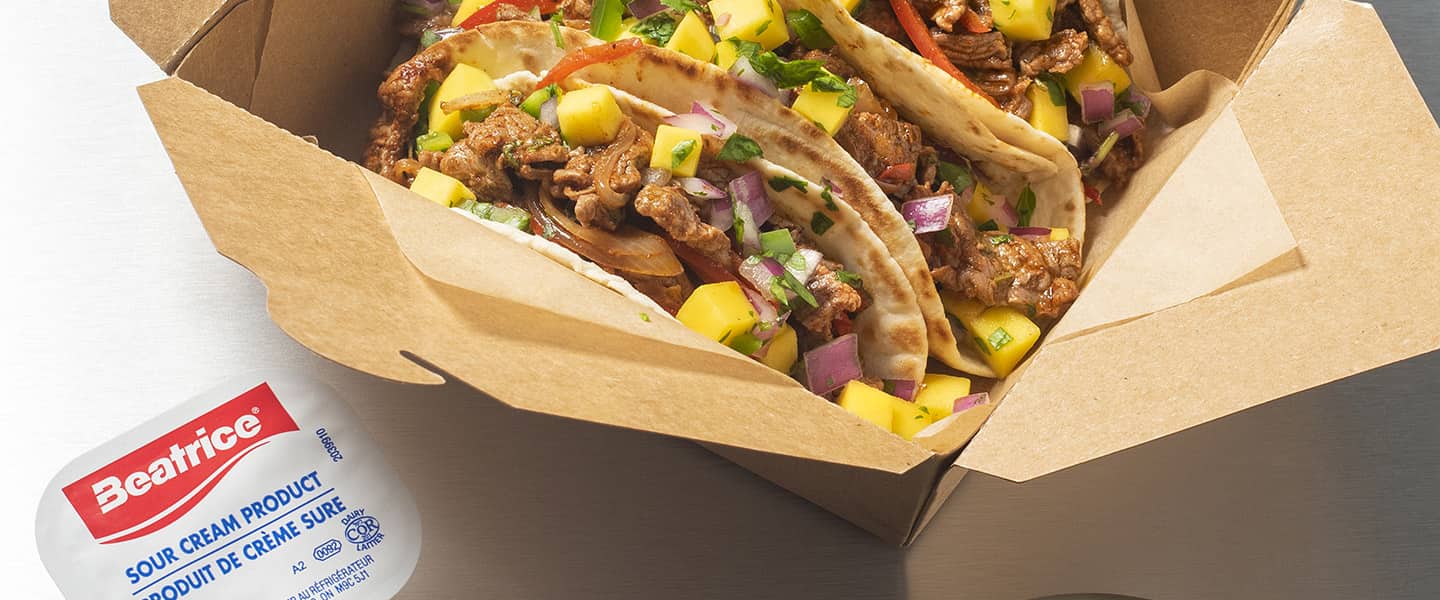 Thai Red Curry Beef Tacos
These Thai-Mexican fusion tacos are packed with a fiesta of flavours that are sure to please.
Ingredients
   Taco Filling
4 tsp (20 mL) vegetable oil
5 oz (150 g) beef sirloin, thinly sliced
Pinch each salt and pepper
½ red pepper, thinly sliced (1.8 oz/52 g)
½ small onion, thinly sliced (1.3 oz/37 g)
1 ½ tsp (7 mL) Thai red curry paste
1 clove garlic, minced
2 tbsp (30 mL) lime juice
2 tbsp (30 mL) thinly sliced Thai basil
   Mango Salsa
¼ cup (60 mL) diced mango
2 tbsp (30 mL) lime juice
1 tbsp (15 mL) diced jalapeño pepper
1 tbsp (15 mL) diced red onion
1 tsp (5 mL) finely chopped fresh cilantro
½ tsp (2 mL) brown sugar
¼ tsp (1 mL) fish sauce
Pinch salt
   Assembly
3 small flour tortillas, warmed
2 (40 g) Beatrice 14% Sour Cream Product Portion
Directions
Taco Filling: Heat oil in large skillet set over high heat; cook beef, salt and pepper for 1 to 2 minutes or until starting to brown.
Stir in red pepper, onion, red curry paste and garlic; cook for 2 to 3 minutes or until beef is just cooked through and vegetables are just tender. Stir in lime juice and basil.
Mango Salsa: Stir together mango, lime juice, jalapeño, red onion, cilantro, brown sugar, fish sauce and salt.
Assembly: Serve tortillas with Taco Filling, Mango Salsa and sour cream.
Tips
For a gluten-free option, substitute corn tortillas for flour tortillas