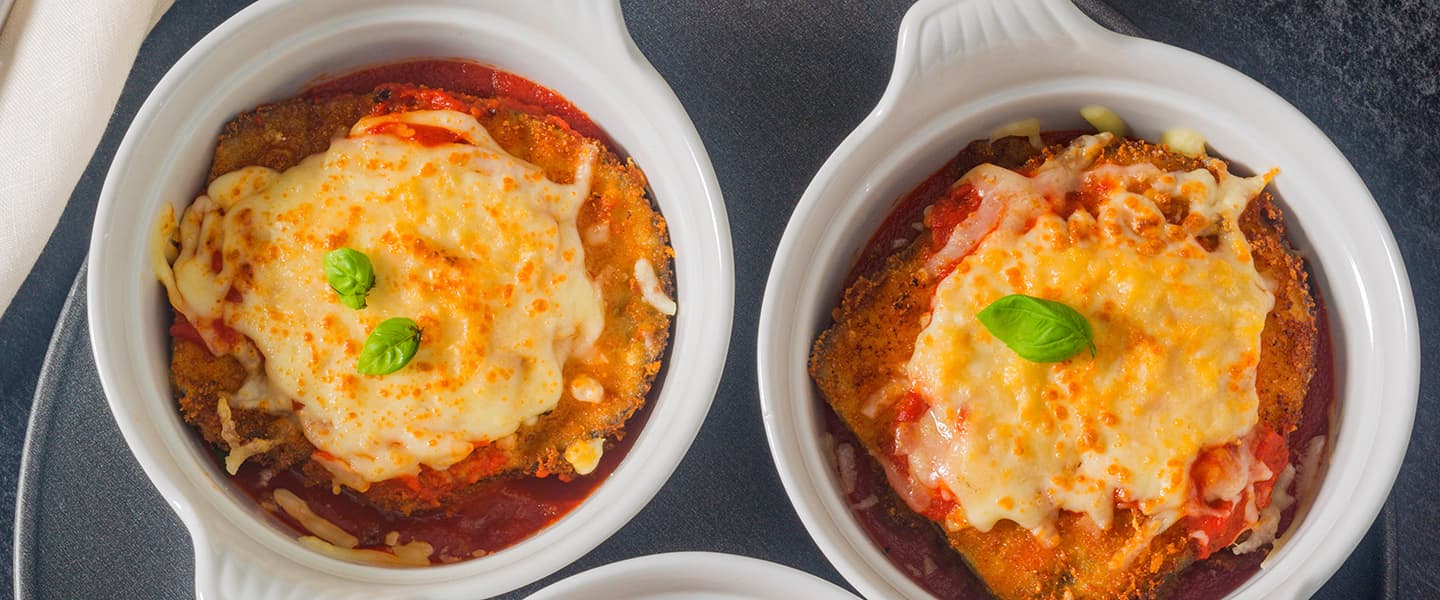 Eggplant Parmigiana
This classic vegetarian Italian dish is so rich and so delicious!
Ingredients
1 small eggplant (about 10 oz/300 g)
¾ cup (175 mL) bread crumbs
½ cup (125 mL) Galbani Professionale Parmesan Cheese Grated, divided
¼ cup (60 mL) all-purpose flour
1 egg, lightly beaten
2 tbsp (30 mL) olive oil
2 tbsp (30 mL) canola oil
¾ cup (175 mL) strained puréed tomatoes (passata)
2 tbsp (30 mL) torn fresh basil leaves, divided
½ tsp (2 mL) each salt and pepper
¾ cup (175 mL) Galbani Professionale Pizza Mozzarella Cheese Tigrano Shred
Directions
Slice eggplant lengthwise into ½-inch (1 cm) thick slices. In shallow dish, mix together bread crumbs and ¼ cup (60 mL) Parmesan. Place flour in separate shallow dish, and egg in another shallow dish.
Dredge eggplant slices in flour, dip into beaten egg, then coat in bread crumb mixture.
In large skillet set over medium heat, heat olive oil and canola oil; cook eggplant slices, in batches, for 2 to 3 minutes per side or until golden brown all over. Drain on paper towel.
Preheat oven to 400°F (200°C). Stir together tomatoes, 1 tbsp (15 mL) basil, salt and pepper. Spoon half of the sauce into bottom of 4-cup (16 oz) individual lasagna baker or baking dish.
Top with eggplant slices; spoon remaining sauce over top. Sprinkle with mozzarella and remaining Parmesan.
Bake for 15 to 20 minutes or until eggplant is tender and cheese is golden brown and melted. Garnish with remaining basil.
Tips
If eggplant is small, it is less bitter because it has less seeds, so it doesn't need to be salted. If eggplant is larger, toss with salt and let drain in colander for 10 minutes. Wipe slices dry using paper towel before breading.