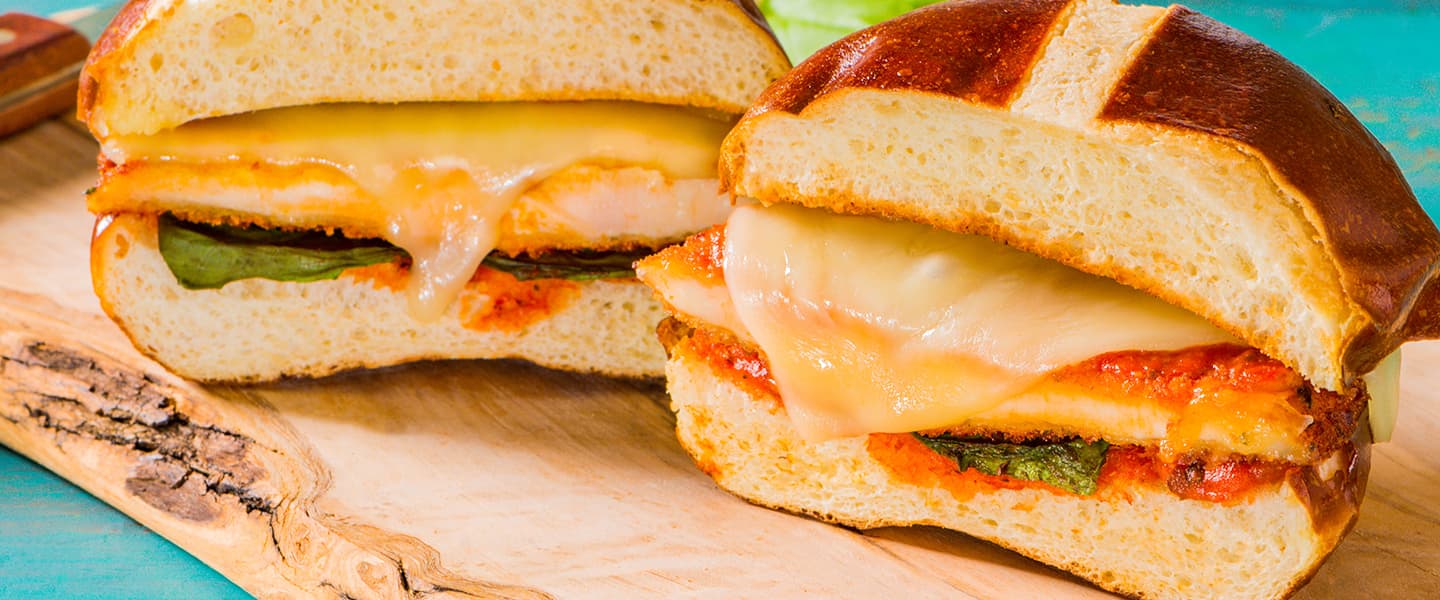 Crispy Chicken Parmesan Sandwich
Oozing with mozzarella cheese, this well-loved Italian chicken sandwich is served on a pretzel bun for a simple twist.
Ingredients
¼ cup (60 mL) seasoned Italian-style bread crumbs
1 tbsp (15 mL) grated Parmesan cheese
1 tbsp (15 mL) all-purpose flour
1 egg, lightly beaten
1 chicken cutlet (about ½-inch/1 cm thick)
Vegetable oil, for frying
½ cup (125 mL) tomato sauce, heated
2 slices Cracker Barrel Mozzarella Slices
4 fresh basil leaves, torn
1 pretzel bun, split and lightly toasted
Directions
In shallow dish, mix together bread crumbs and Parmesan. Place flour in separate shallow dish, and egg in another shallow dish.
Dredge chicken cutlet in flour, dip into beaten egg, then coat in bread crumb mixture.
Heat oil in skillet set over medium heat until temperature reaches 365°F (185°C). Shallow-fry breaded chicken cutlet, turning once, for about 4 minutes or until golden brown, crispy and cooked through. Drain on paper towel.
Transfer chicken cutlet to small parchment paper–lined baking sheet; top with sauce and mozzarella slices. Bake for 2 to 3 minutes or until cheese starts to melt.
Sandwich chicken and basil in toasted pretzel bun.
Tips
Substitute a Kaiser or ciabatta bun for pretzel bun.
Alternatively, use frozen prepared chicken cutlets and cook according to package directions.