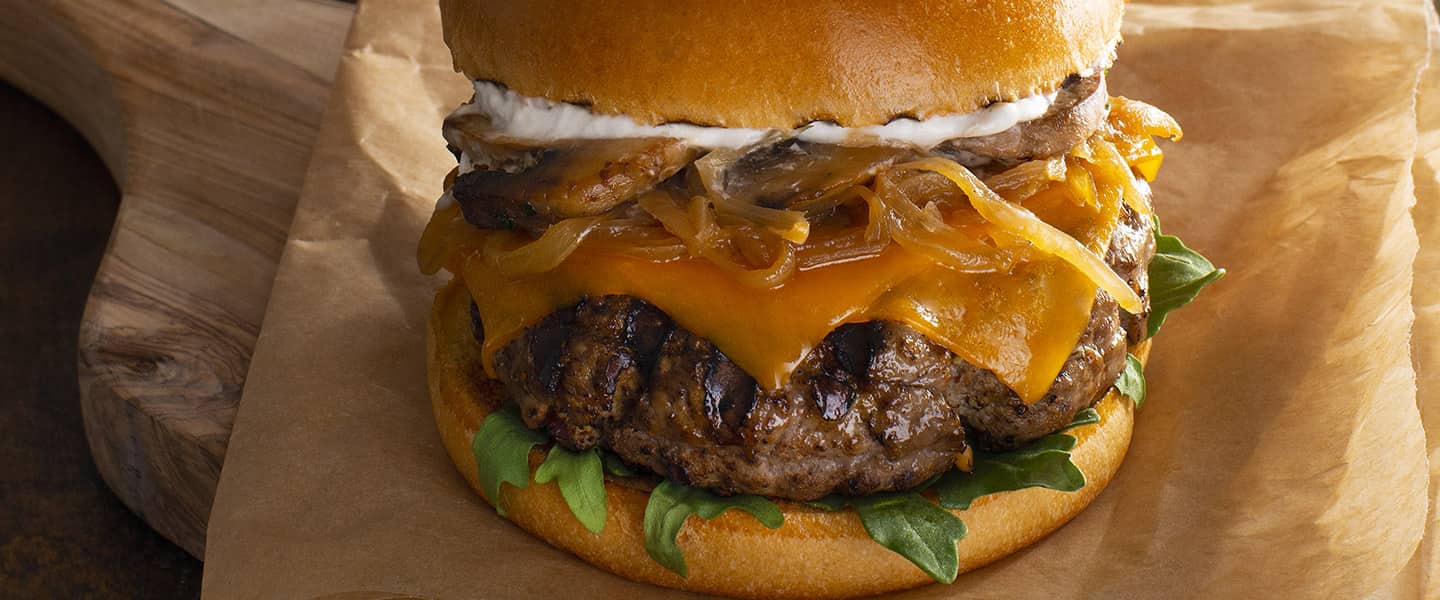 Beef and Mushroom Cheeseburger
Garnished with sautéed mushrooms, caramelized onions and horseradish sour cream,
this upscale cheeseburger is elevated to gourmet status.
Total Time: 45 Mins
Prep Time: 20 Mins
Cook Time: 25 Mins
Serves: 1
Ingredients
5 oz (150 g) ground beef
1 tsp (5 mL) steak seasoning
1 tsp (5 mL) Dijon mustard
1 tbsp (15 mL) Beatrice Sour Cream
1 tsp (5 mL) horseradish
1 tbsp (15 mL) butter
2 oz (30 g) sliced mushrooms
½ tsp (2 mL) minced garlic
Pinch each salt and pepper
1 tsp (5 mL) finely chopped fresh chives
2 slices Black Diamond Sliced Cheese
1 brioche burger bun, toasted
½ cup (125 mL) arugula
¼ cup (60 mL) caramelized onions
Directions
Mix together ground beef, steak seasoning and mustard; shape into 1/2-inch (1 mL) thick patty. Refrigerate until ready to grill.
Stir together sour cream and horseradish; refrigerate until ready to serve.
Melt butter in small saucepan set over medium-high heat; cook mushrooms and garlic for 4 to 5 minutes or until starting to brown. Season with salt and pepper. Stir in chives.
Preheat grill to medium-high; grease grate well. Grill burger turning once, for 10 to 13 minutes or until internal temperature reaches 160°F (71°C). Top with cheese slices; cook for 30 to 60 seconds or until cheese melts. Meanwhile, grill bun for 30 to 60 seconds or until lightly toasted.
Assemble cheeseburger in bun with horseradish cream, arugula, sautéed mushrooms and caramelized onions.
Tips
Add a splash of brandy to the mushrooms as they are sautéed.
For caramelized onions: Use prepared onions, or melt 2 tbsp (30 mL) butter in a large heavy-bottom pan set over medium heat; cook 2 large sliced onions, and a pinch of salt, pepper and sugar for about 5 minutes or until slightly softened. Reduce heat to medium-low; cook, stirring often, for 25 to 35 minutes or until onions are a dark golden brown colour and caramelized. Let cool; cover and refrigerate for up to 3 days.