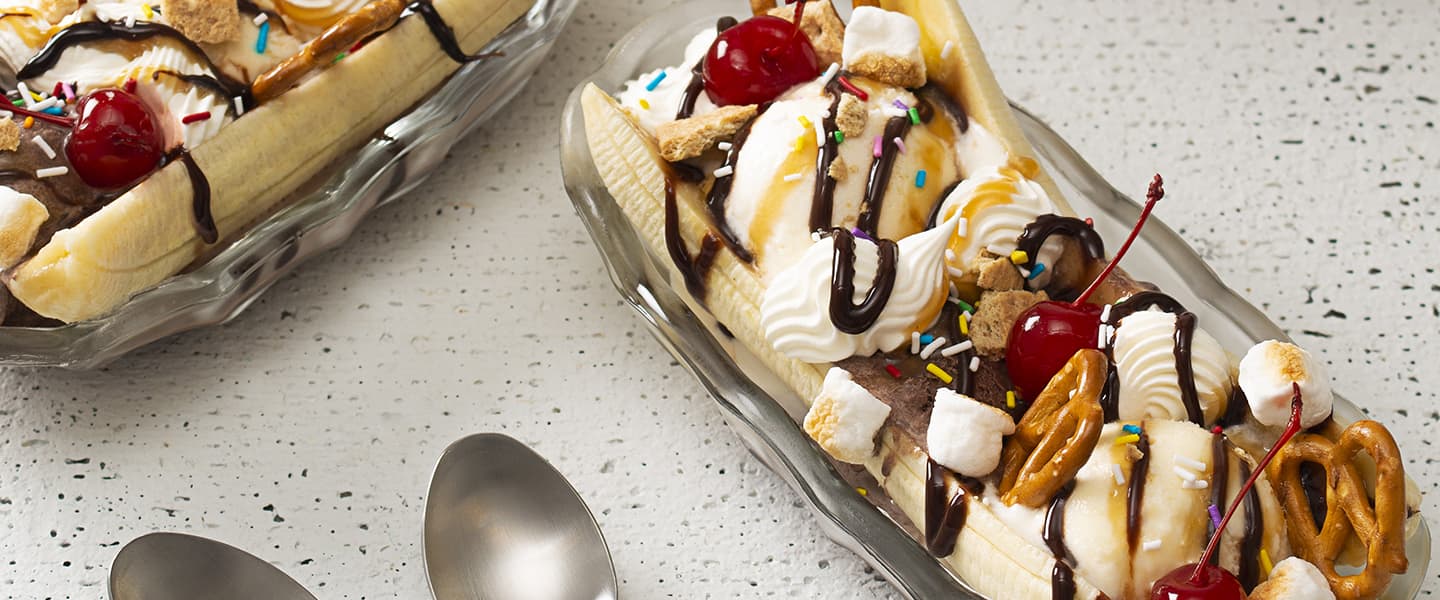 S'more Banana Split Extravaganza
This over-the-top banana split is loaded with lots of crowd-pleasing s'more flavours.
Total Time: 15 mins
Prep Time: 15 mins
Cook Time: none
Serves: 1
Ingredients
1 banana, peeled and halved
1 cup (250 g) prepared Lactantia Vanilla Soft Serve
½ cup (125 g) prepared Lactantia Chocolate Soft Serve
2 tbsp (30 mL) caramel sauce
2 tbsp (30 mL) hot fudge sauce
Garnish
2 graham cracker squares, broken into chunks
1 oz (30 g) semi-sweet chocolate, chopped into chunks
6 mini pretzel twists
2 tbsp (30 mL) mini marshmallows, roasted
Whipped cream topping
½ tsp (2 mL) sprinkles
3 maraschino cherries
Directions
Arrange banana halves on each long side of banana split dish. Top with vanilla and chocolate soft serve.
Drizzle with caramel sauce and hot fudge sauce.
Garnish with graham crackers, chocolate, pretzels, mini marshmallows, whipped cream topping and sprinkles. Top with maraschino cherries.
Tips
To roast marshmallows, char lightly with mini torch gun. Alternatively, arrange marshmallows on foil-lined baking tray, about two inches (5 cm) apart; broil on High just until puffed and charred.