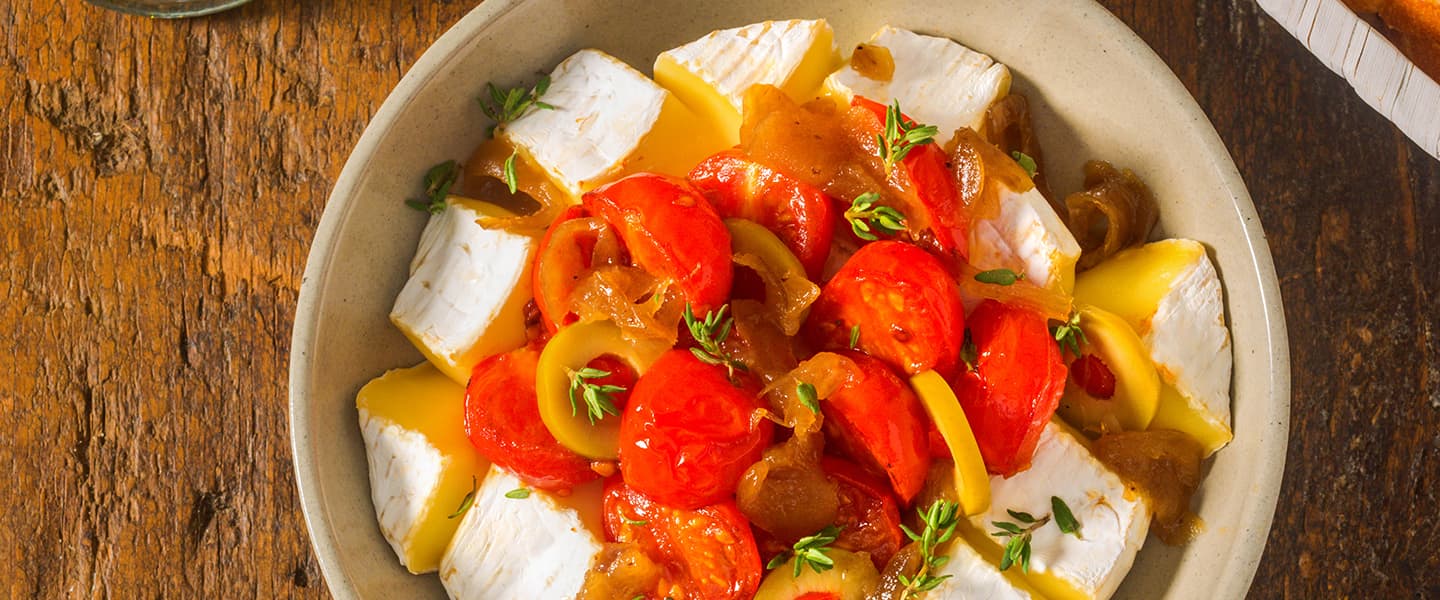 Savoury Baked Brie
Topped with lovely Mediterranean flavours, this warm baked Brie is the perfect appetizer for sharing. Store-bought caramelized onions cut down on prep time.
Total Time: 40 mins
Prep Time: 15 mins
Cook Time: 25 mins
Serves: 2
Ingredients
4 oz (125 g) Président Professionnel Double Crème Brie
1 tbsp (15 mL) olive oil
½ cup (125 mL) grape tomatoes, halved
3 large green olives, pitted and sliced
2 tbsp (30 mL) prepared caramelized onions
1 tsp (5 mL) fresh thyme leaves
¼ tsp (1 mL) each salt and pepper
8 baguette rounds, toasted
Directions
Preheat oven to 400°F (200°C). Grease 3-inch (8 cm) oven-safe ceramic ramekin; set aside.
Heat olive oil in small skillet set over medium heat; cook tomatoes for 3 to 5 minutes or until soft and slightly caramelized. Remove from heat; mix in olives, caramelized onions, thyme, salt and pepper.
Cut Brie into chunks; arrange evenly in ramekin. Bake for 10 to 15 minutes or until Brie just starts to melt.
Spoon tomato mixture over top; bake for 3 to 5 minutes or until heated through and cheese is completely melted.
Serve with baguette toasts.
Tips
Alternatively, substitute rosemary or basil for thyme.
Add chopped toasted walnuts or pecans for a crunch.