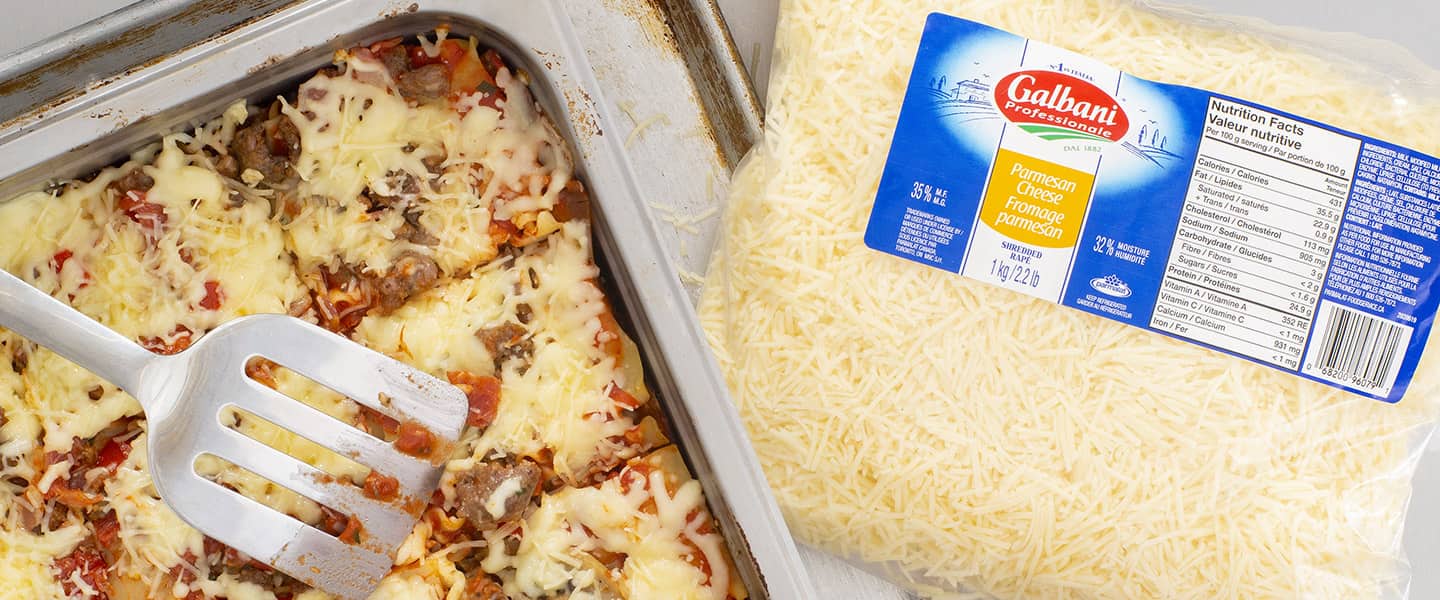 Meat-Lover's Pizza Lasagna
With sausage, bacon and sopressata, this indulgent pizza-inspired
lasagna delivers lots of comforting flavours.
Total Time: 3 Hour 45 Mins (+ 10 mins standing time)
Prep Time: 1 Hour 15 Mins
Cook Time: 2 Hours 30 Mins
Serves: 18
Ingredients
36 lasagna noodles or 2 pkg (375 g each)
½ cup (125 mL) olive oil, divided
2 onions, diced
3 red bell peppers, diced
1 lb (500 g) sliced mushrooms
½ cup chopped fresh parsley, divided
½ tsp (2 mL) each salt and pepper, divided
1 can (2.84 L) tomato sauce
1 cup (250 mL) packed torn fresh basil, divided
1 tbsp (15 mL) dried oregano
½ tsp (2 mL) red chili flakes
2 lb (1 kg) Italian sausage, casing removed, cooked and chopped
1.5 lb (750 g) bacon, par-cooked until golden but not crispy, drained on paper towel and chopped
12 oz (375 g) thinly sliced sopressata
½ block (2.3 kg) Galbani Professionale Pizza Mozzarella Cheese 22% Block Galbani, grated
½ bag (1 kg) Galbani Professionale Parmesan Cheese Shred
¾ cup (175 mL) chilies in oil, for serving
Directions
Cook lasagna noodles according to package directions; set aside.
Heat ¼ cup (60 mL) of the oil in large rondeau or tilt fryer over medium-high heat; cook onions, peppers and mushrooms for 8 to 10 minutes or until slightly softened. Stir in ¼ cup (60 mL) of the parsley; season with ¼ tsp each salt and pepper. Let cool completely.
In large bowl, whisk together tomato sauce, half of the basil, oregano, chili flakes, and remaining olive oil, parsley, and salt and pepper.
In separate large bowl, combine sausage, bacon and sopressata; set aside.
Preheat oven to 375°F (190°C). Spread 1 cup (250 mL) sauce in bottom of greased 20- x 12- x 2 ½-inch (50 x 30 x 6 cm) lasagna pan or roasting pan. Fit eight lasagne noodles in bottom of pan, trimming to fit. Add one-quarter of each of the remaining sauce, mozzarella and Parmesan. Sprinkle with one-quarter of each of the onion mixture and sausage mixture. Repeat layers three times, arranging top layer to resemble the top of a pizza. Cover with foil.
Bake for 1 ½ to 2 hours or until filling is heated through and Remove foil; broil for 5 to 8 minutes or until golden brown and bubbling. Let stand for 10 minutes. Cut into 18 portions. Hold for service.
For serving, garnish with remaining basil and serve with chilies in oil.
Tips
Substitute Genoa salami or pepperoni for sopressata.