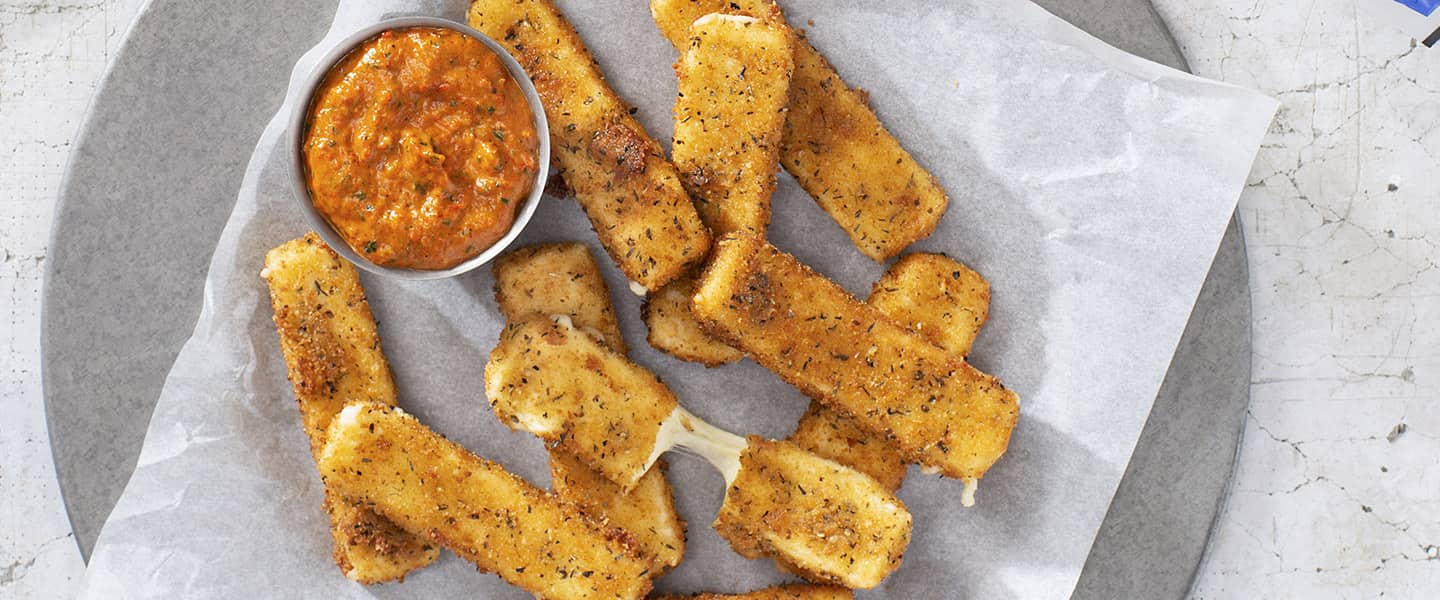 Italian Fried Mozzarella Sticks with Roasted Red Pepper Dipping Sauce
A must-have appetizer on any menu, these Italian-style mozzarella sticks are simply irresistible.
Ingredients
   Roasted Red Pepper Sauce
2 red bell peppers
4 whole cloves garlic, unpeeled
¼ cup (60 mL) olive oil
¼ cup (60 mL) fresh basil
1 tbsp (15 mL) red wine vinegar
¼ tsp (1 mL) each salt and pepper
   Mozzarella Sticks
8 oz (250 g) Galbani Professionale ® Pizza Mozzarella 22% Block
1 cup (250 mL) bread crumbs
1 tbsp (15 mL) dried Italian seasoning blend
¼ cup (60 mL) all-purpose flour
1 egg, beaten
Canola oil, for deep-frying
½ tsp (2 mL) each salt and pepper
Directions
Roasted Red Pepper Sauce: Preheat broiler. Arrange peppers on foil-lined baking sheet. Slice sliver from tip of each garlic clove; add to baking sheet with peppers.
Broil, turning occasionally, for 5 to 8 minutes or until red peppers are charred all over and garlic is tender. Transfer peppers to heatproof bowl; cover tightly with plastic wrap. Let stand for 15 minutes. Remove skins, seeds and stems from peppers. Squeeze out garlic from skins.
In food processor, pulse together roasted peppers, roasted garlic, oil, basil, vinegar, salt and pepper until smooth.
Mozzarella Sticks: Cut mozzarella into 3 x 1 x ½-inch (8 x 2.5 x 1 cm) sticks.
In shallow bowl, combine bread crumbs and Italian seasoning. Dredge mozzarella fingers in flour, dip in egg, then coat in bread crumb mixture.
Deep-fry breaded mozzarella sticks in oil preheated to 350ºF (180ºC) for 1 to 2 minutes or until golden brown all over. Transfer to paper towel–lined tray. Sprinkle with salt and pepper.
Serve mozzarella sticks with red pepper sauce for dipping.
Tips
Substitute balsamic vinegar for red wine vinegar if desired.