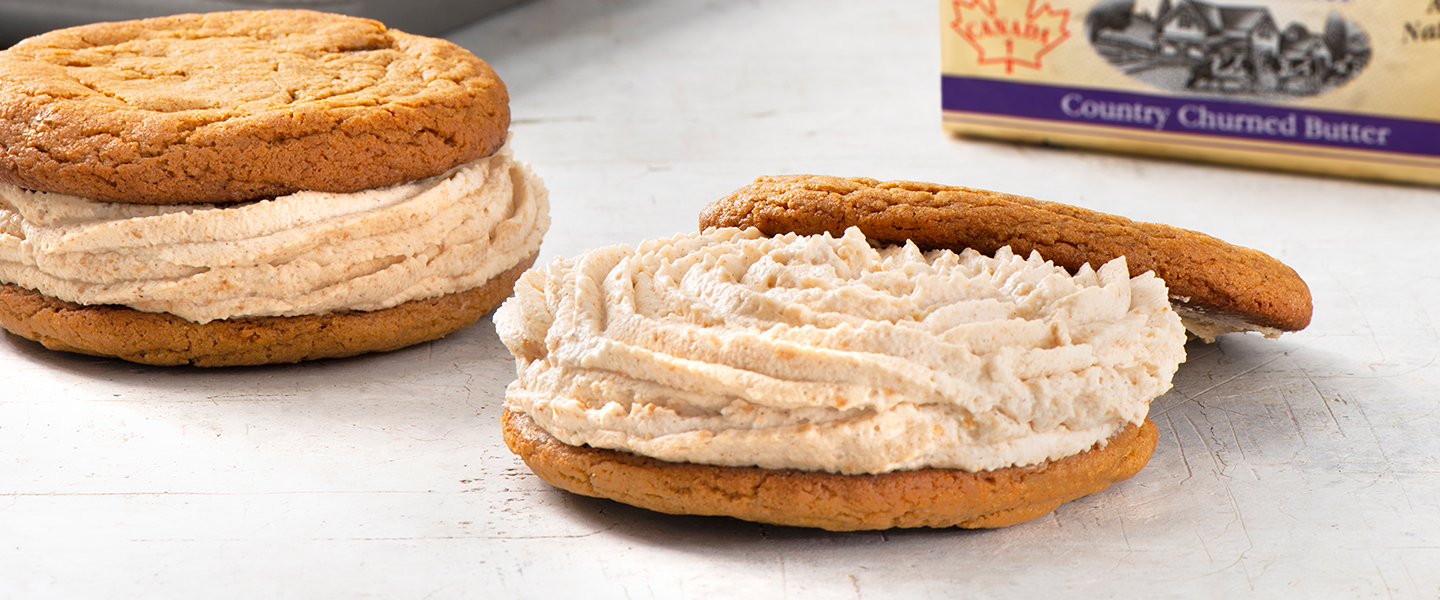 Giant Gingerbread Cookie Sandwiches
These spicy gingerbread cookies are sandwiched with creamy cookie butter for a holiday dessert that smells and tastes fantastic.
Ingredients
   Cookies:
2 ¼ cups (550 mL) all-purpose flour
1 tsp (5 mL) baking powder
1 tsp (5 mL) baking soda
1 tbsp (15 mL) ground ginger
1 tsp (5 mL) ground cinnamon
½ tsp (2 mL) ground allspice
½ tsp (2 mL) salt
¼ tsp (1 mL) each ground cloves and nutmeg
¼ tsp (1 mL) cayenne pepper
¾ cup (175 mL) unsalted butter, at room temperature
¾ cup (175 mL) packed brown sugar
¼ cup (60 mL) granulated sugar
1 egg
¼ cup (60 mL) molasses
2 tsp (10 mL) vanilla extract
   Cookie Butter:
½ cup (125 mL) crushed gingerbread cookies (about 25 cookies)
3 tbsp (45 mL) sweetened condensed milk
2 tbsp (30 mL) evaporated milk
½ cup (125 mL) butter, at room temperature
½ cup (125 mL) icing sugar
¼ tsp (1 mL) salt
Directions
Cookies: Preheat oven to 375ºF (190ºC). Whisk together flour, baking powder, baking soda, ginger, cinnamon, allspice, salt, cloves, nutmeg and cayenne; set aside.
Using electric mixer, beat together butter, brown sugar and granulated sugar until light and fluffy, scraping down side of bowl as needed; beat in egg. Stir in molasses and vanilla until blended. Stir in flour mixture; beat just until blended. Cover and refrigerate for at least 1 hour or up to 2 days.
Preheat oven to 375ºF. Using 1/3 cup (75 mL) measure, roll dough into balls. Place on parchment paper–lined baking sheets, about 4 inches (10 cm) apart. Press lightly on dough to flatten slightly.
Bake in middle of oven, one baking sheet at a time, for 10 to 15 minutes or until cookies are golden on the bottom and tops are set. Let cool completely on baking sheet. (Can be stored in airtight container at room temperature for up to 3 days or frozen for up to 1 month.)
Cookie Butter: In food processor, pulse crushed cookies until finely ground. Add sweetened condensed milk and evaporated milk until blended. Add butter; pulse until blended. Add icing sugar and salt; pulse until smooth. Refrigerate for 15 to 30 minutes or until spreadable.
Spread half of the cookies with 1/4 cup (60 mL) of the cookie butter; cap with remaining cookies. Store in airtight container for up to 1 week or freeze for up to 1 month.
Tips
Serve with eggnog, vanilla milkshake or a vanilla latte.
Alternatively, sandwich cookies with vanilla or salted caramel ice cream.