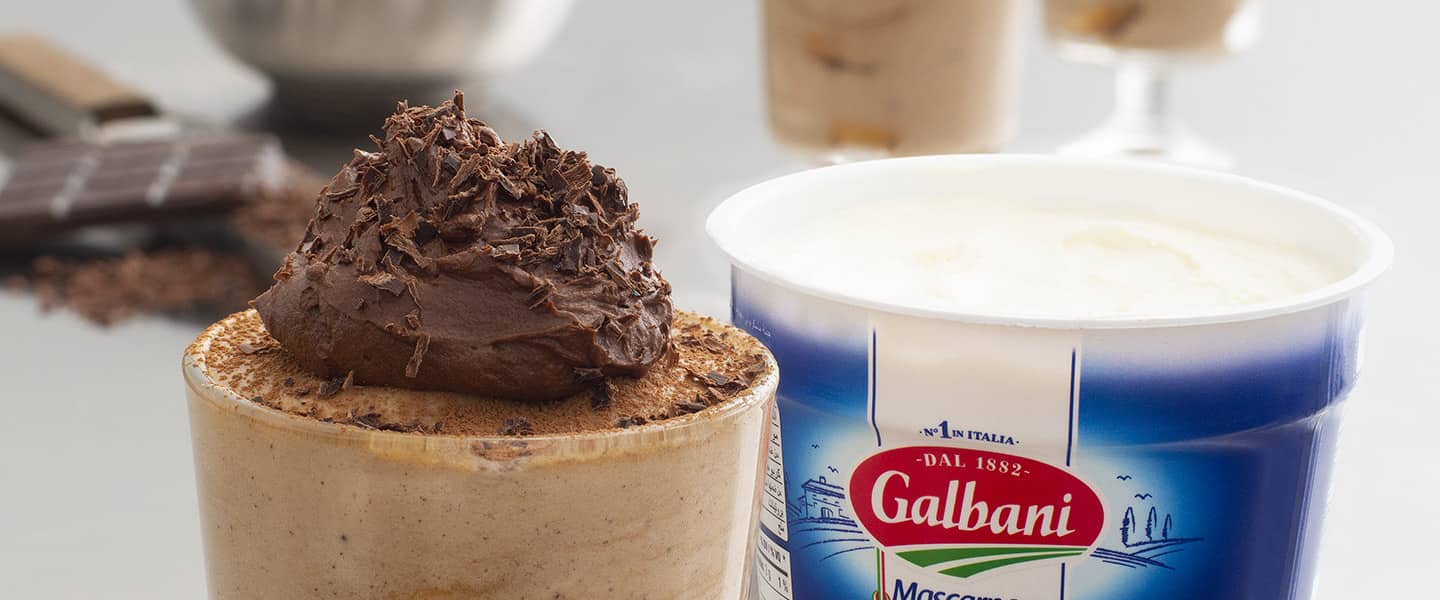 Chocolate Tiramisu
Perfect for chocolate lovers, this pretty and rich chocolate tiramisu
is presented in individual serving glasses.
Ingredients
1 ⅓ cups (325 mL) Lactantia 35% Whipping Cream, divided
3 ½ oz (100 g) finely chopped dark chocolate (at least 70%)
Pinch sea salt
4 egg yolks
¼ cup (60 mL) granulated sugar
¼ cup (60 mL) chocolate liqueur
2 tbsp (30 mL) icing sugar
1 ⅓ cups (325 mL) Galbani Mascarpone Cheese
16 chocolate wafer cookies
1 cup (250 mL) brewed espresso, cooled completely
¼ cup (60 mL) bourbon
4 tsp (20 mL) cocoa powder
½ cup (125 mL) shaved dark chocolate
Directions
Heat 1 cup (250 mL) cream in small saucepan set over medium heat; bring to simmer. Pour hot cream over chocolate in heatproof bowl. Let stand for 1 minute; whisk until smooth and melted. Stir in salt. Let cool completely; refrigerate until needed.
Whisk together egg yolks, granulated sugar and chocolate liqueur in double boiler or heatproof bowl set over saucepan of barely simmering water for 3 to 5 minutes or until thickened, pale coloured and mixture falls in ribbons when whisk is lifted; let cool slightly.
Using electric mixer, beat remaining cream and icing sugar until stiff peaks start to form; set aside.
Beat mascarpone until light and fluffy; fold in egg yolk mixture. Fold in half of the chocolate ganache. Fold in whipped cream.
Combine espresso and bourbon. One at a time, dip 12 chocolate wafer cookies into espresso mixture just until moistened, but not soggy. Snuggle 1 dipped cookie in bottom of each of four ¾-cup (175 mL) serving glasses. Spoon 2 tbsp (30 mL) mascarpone mixture over top; repeat layers three times. Dust with cocoa powder. Refrigerate for at least 4 hours or overnight.
To serve, top each serving with dollop of remaining chocolate ganache. Garnish with shaved chocolate.
Tips
Alternatively, garnish with mini chocolates if desired.