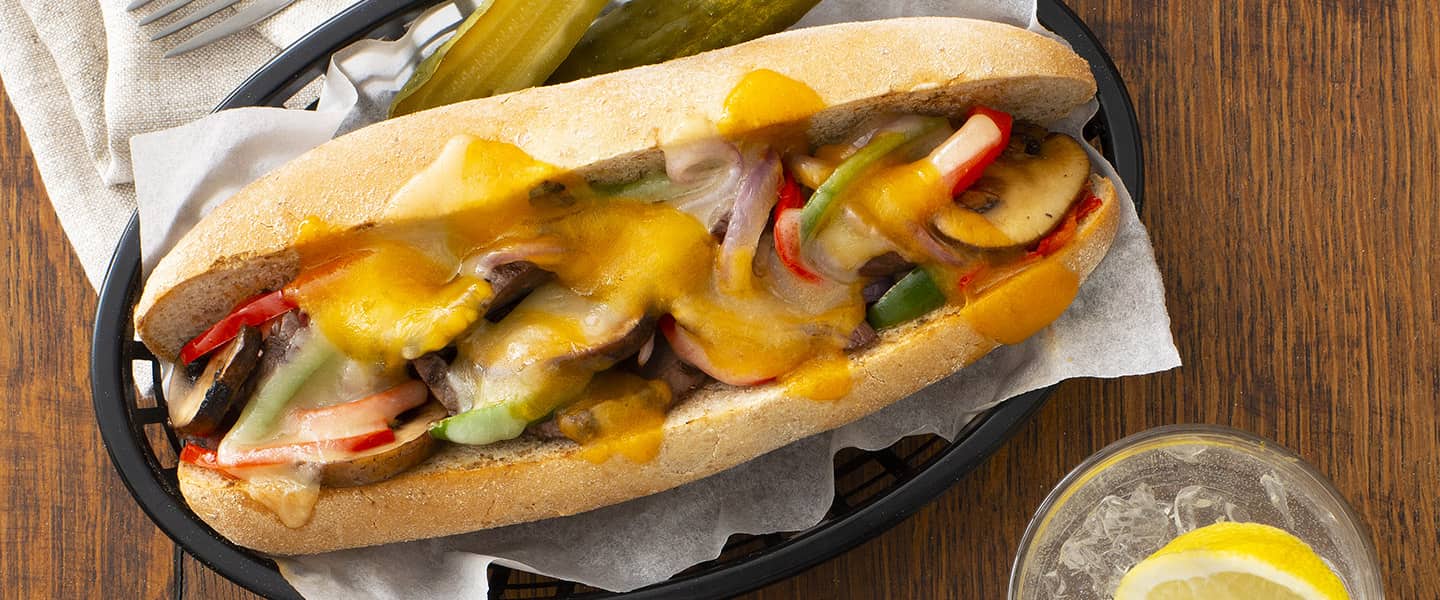 Best 3-Cheese Philly Cheesesteak
Loaded with cheese and toppings, this take on a Philly cheesesteak is layered with three cheeses for an ooey-gooey sandwich that will rock your taste buds.
Ingredients
4 tsp (20 mL) vegetable oil, divided
1 cup (250 mL) thinly sliced red and green bell peppers
½ cup (125 mL) thinly sliced onions
½ cup (125 mL) sliced mushrooms
¼ tsp (1 mL) each salt and pepper, divided
6 oz (175 g) sirloin steak, thinly sliced
1 clove garlic, minced
2 slices Cracker Barrel Natural Pizza Mozza Slice
1 slice Cracker Barrel Medium Cheddar Cheese Slice
1 slice Cracker Barrel Old Cheddar Cheese Slice
1 hoagie bun, split (12-inch/30 cm)
Directions
Heat half of the oil in large skillet on flat top set over medium-high heat. Cook peppers, onions, mushrooms, and half of the salt and pepper for 8 to 10 minutes or until slightly softened; remove from pan.
Add steak; cook for 2 to 3 minutes or until starting to brown. Add garlic; cook for 1 to 2 minutes or until fragrant and steak is cooked through. Season with remaining salt and pepper.
Reduce heat to medium-low. Mound steak in pan to fit the length of bun; top with cheese slices. Cover and cook for 30 to 60 seconds or until cheese starts to melt.
Assemble steak and onion mixture in hoagie bun.
Tip
To thinly slice meat with ease, freeze the sirloin steak for 15 to 20 minutes or until firm but not frozen. Slice thinly with sharp knife or use a meat slicer.