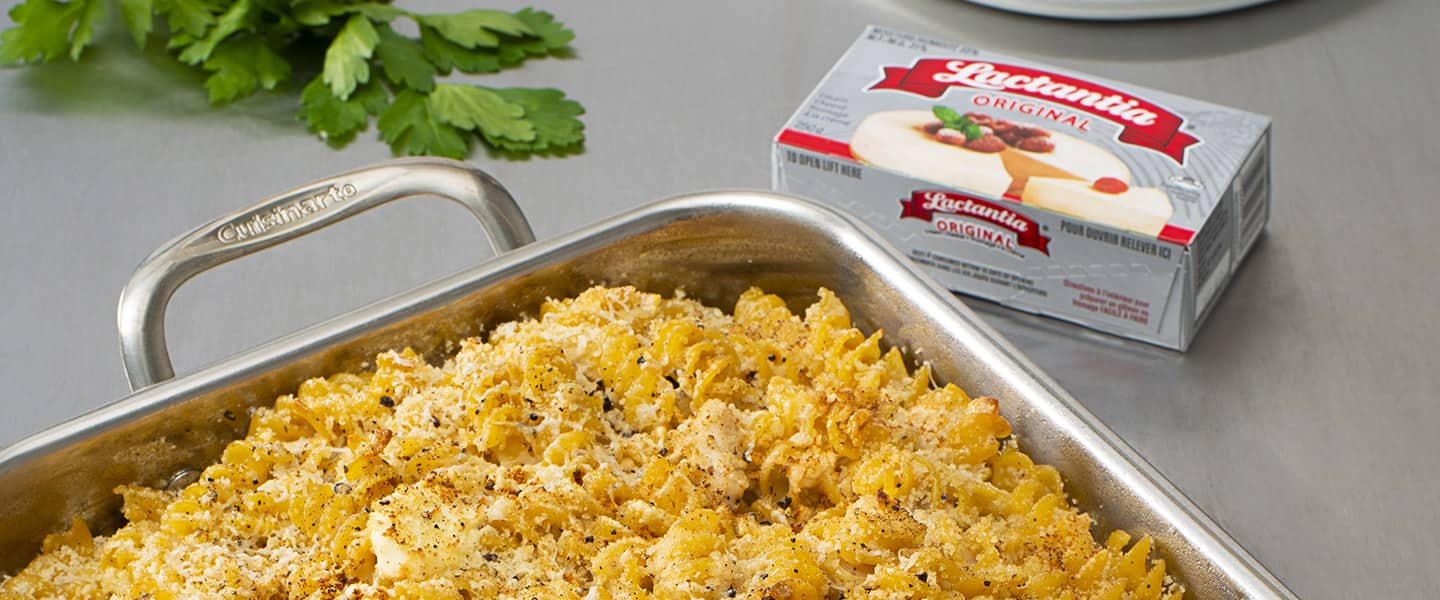 Baked Cacio and Pepe Chicken Mac and Cheese
Cacio and pepe is a simple Roman dish prepared by tossing pasta simply with cheese and pepper. This amped-up mac and cheese version with chicken is creamy, rich and decadent.
Total Time: 40 Mins
Prep Time: 20 Mins
Cook Time: 20 Mins
Serves: 1
Ingredients
2 cups (500 mL) cooked corkscrew pasta (6.6 oz/186 g), and ¼ cup/60 mL cooking liquid reserved
½ cup (125 mL) chopped cooked chicken (2.8 oz/80 g)
½ cup (125 mL) Alfredo sauce
2 oz (60 g) Lactantia Cream Cheese, cubed
¼ cup (60 mL) grated Parmesan cheese
5 cloves roasted garlic
1 ½ tsp (7 mL) crushed pepper, divided
¼ cup (60 mL) bread crumbs
1 tbsp (15 mL) melted butter
1 tsp (5 mL) finely chopped fresh parsley
Directions
Preheat oven to 425°F (220°C). Mix together pasta and cooking liquid, chicken, Alfredo sauce, cream cheese, Parmesan, roasted garlic and 1 tsp (5 mL) pepper. Spoon into greased 3-cup (24 oz) individual lasagna baker or baking dish.
Toss together bread crumbs, melted butter and remaining pepper. Sprinkle over top of mac and cheese. Bake for 15 to 20 minutes or until golden brown and bubbly.
Garnish with parsley.
Tips
Substitute shrimp or sausage for chicken.