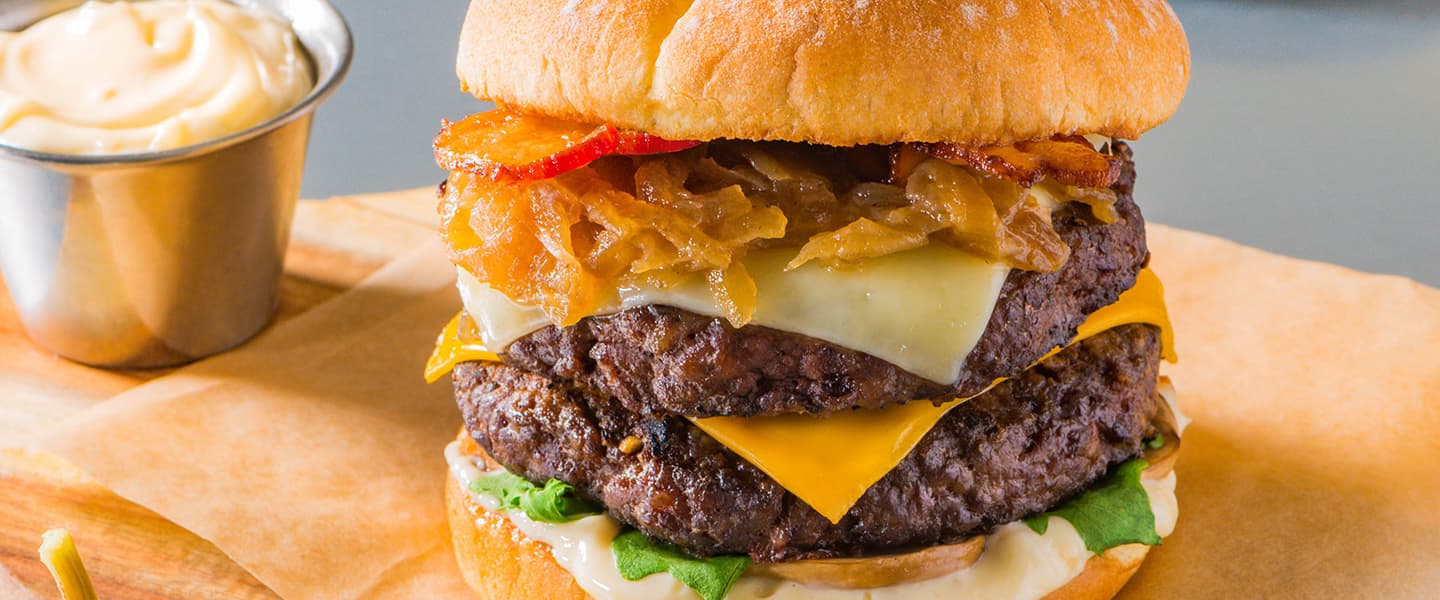 The Forget About It Burger
This over-the-top loaded Italian burger is definitely indulgent –but sometimes you gotta eat what you wanna eat!
Ingredients
2 (4 oz) beef patties
1 Processed Cheddar Cheese Slice
1 Asiago Cheese Slice
1 burger bun, split
2 bacon slices, cooked
¼ cup (60 mL) sautéed mushrooms
¼ cup (60 mL) arugula
2 tbsp (30 mL) garlic aioli
2 tbsp (30 mL) caramelized onions
2 pepperoncini, for garnishing
Directions
Preheat grill to medium-high; grease grate well. Grill beef patties for 5 to 7 minutes per side or until cooked through and instant-read thermometer inserted into centre of each patty reaches 160°F (71°C). Top 1 patty with Cheddar cheese slice; top remaining patty with Asiago cheese slice. Grill for about 1 minute or until cheese starts to melt.
Meanwhile, grill bun for 30 to 60 seconds or until lightly toasted; grill bacon for 30 to 60 seconds or until heated through.
Assemble patties in bun with mushrooms, arugula, bacon, aioli and caramelized onions. Garnish with pepperoncini.
Tips
Serve with French fries and/or a tossed green salad.