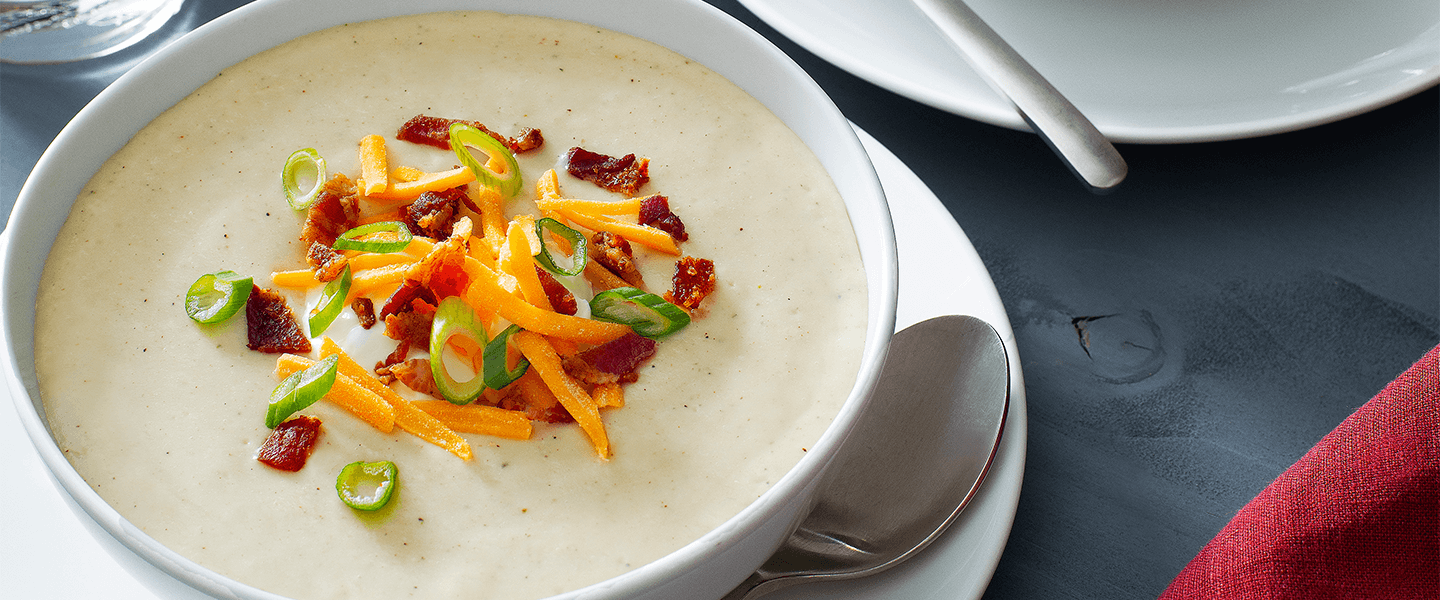 Loaded Baked Potato Soup
With all the yummy flavours of a loaded baked potato, this creamy soup is hearty, cheesy and comforting.
Ingredients
4 slices bacon, chopped
1 small onion, diced
4 cloves garlic, minced
1 small bunch fresh thyme
1 sprig fresh rosemary
1 tbsp (15 mL) all-purpose flour
4 cups (1 L) sodium-reduced chicken broth
1 cup (250 mL) 35% whipping cream
1/4 tsp (1 mL) ground nutmeg
3 Russet potatoes (about 2 lb/1kg), diced
2 bay leaves
1 tbsp (15 mL) salt
1 tsp (5 mL) pepper
1/4 cup (60 mL) shredded Black Diamond Old Cheddar, divided
1/4 cup (60 mL) Beatrice Sour Cream 14%, divided
4 green onions, thinly sliced and divided
Directions
Cook bacon in large saucepan set over medium heat for 3 to 5 minutes or until golden brown and crispy. Using slotted spoon, transfer to paper towel–lined plate.
In same saucepan with melted fat, cook onion, garlic, thyme and rosemary for about 3 minutes or until slightly softened. Sprinkle flour over top; cook, stirring, for 1 to 2 minutes or until smooth.
Add chicken broth, cream and nutmeg; bring to boil. Stir in potatoes and bay leaves.
Reduce heat to medium; cook for 18 to 20 minutes or until potatoes are very tender. Remove and discard bay leaves, thyme and rosemary sprigs.
In blender, purée soup until very smooth. Season with salt and pepper.
Divide soup among 4 bowls. Garnish with shredded cheese, sour cream, bacon and green onions.
Tips
For extra-smoky flavour, garnish the soup with a pinch of smoked paprika.
Soup can also be served with additional toppings, such as cooked and chopped broccoli florets, roasted cauliflower florets, caramelized onions, diced jalapeño pepper, sautéed mushrooms or garlicky croutons.