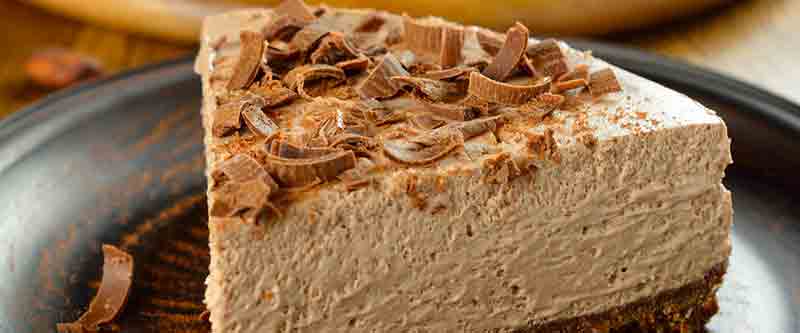 Ultimate Mochaccino Cheesecake
Total Time: 85 Mins
Prep Time: 25 Mins
Cook Time: 60 Mins
Serves: 12
Ingredients
1 1/2 cup crushed, chocolate wafer cookie crumbs
2 tbsp sugar
1/4 cup Lactantia Butter, melted
1 cup chocolate chips or shavings, divided
3×8 oz (250g)Lactantia Original or Light Cream Cheese, room temperature
3/4 cup sugar
3 eggs
1 tbsp instant coffee
3 tbsp coffee-flavoured liqueur
Directions
Preheat oven to 325°F (160°C). Combine cookie crumbs, sugar and melted Lactantia Butter until moistened; press onto bottom and halfway up the sides of ungreased 9-inch (22.5 cm) springform pan. Bake for 10 minutes; remove from oven and cool. Sprinkle with 1/2 cup (125 mL) chocolate chips.
Add Lactantia Cream Cheese to bowl of electric mixer, add sugar and beat on medium speed until well blended. Add eggs, one at a time, mixing on low speed after each addition, just until blended. Add instant coffee to liqueur and stir until dissolved. Mix into cream cheese mixture. Pour into crust. Sprinkle with remaining chocolate chips or shavings.
Bake in preheated oven 45-50 minutes or until almost cooked. The centre will be wobbly. Let cool. Refrigerate up to 6 hours or overnight.