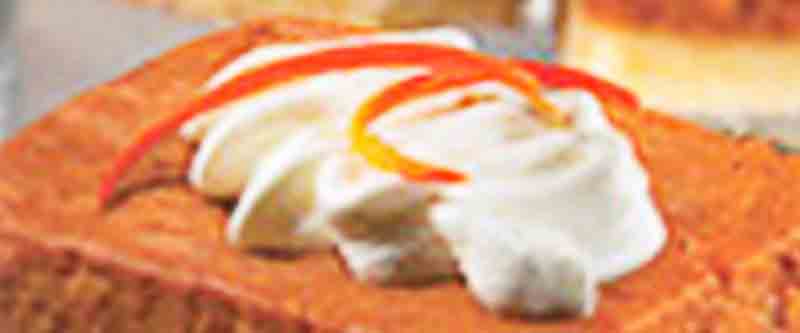 PUMPKIN CHEESECAKE SQUARES
Total Time: 55 Mins
Prep Time: 15 Mins
Cook Time: 40 Mins
Serves: 4
Ingredients
1 pkg Lactantia Cream Cheese product, at room temperature
1 cup Lactantia Butter, melted
2 cups all purpose flour
1 1/2 cups white sugar
2 eggs
1×14oz. can pure pumpkin
1 tbsp pumpkin pie spice
1/3 cup brown sugar
1 cup chopped pecans
2 cups Lactantia 35% Whipping Cream
Directions
Preheat oven to 350°F.
In a small bowl mix flour, sugar and melted butter. Press into bottom of 9" x 13" (3.75 L) pan. Bake for 10 minutes.
In a medium bowl, mix softened cream cheese on medium speed until smooth. Add eggs one at a time until well blended, scraping bowl once or twice with a spatula. Mix in pumpkin, pumpkin spice and brown sugar. Fold in pecans. Pour evenly over crust.
Bake for 20-30 minutes until center is almost set. Cool slightly and refrigerate for three hours or overnight.
Spread whipped cream evenly over cooled pumpkin filling. Cut into squares.