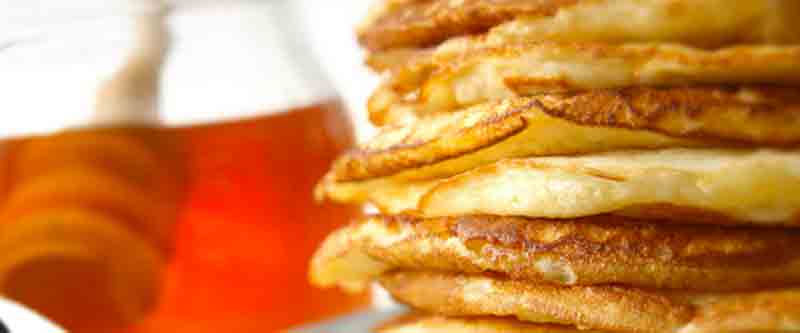 Norwegian Cheddar Pancakes
Total Time: 45 Mins
Prep Time: 10 Mins
Cook Time: 10 Mins
Serves: 4
Ingredients
1 pkg Black Diamond Medium Cheddar or Colby Cheese
1 ½ cups flour
2 tsp sugar
3/4 tsp baking powder
1/2 tsp salt
2 eggs
3/4 cup Astro Plain Yogourt
3/4 cup Beatrice 2% Milk
1/4 cup Lactantia Salted Butter, melted
Directions
Shred three-quarters of the Black Diamond cheese; dice remaining quarter and set all aside.
In large bowl, combine flour, sugar, baking powder, baking soda and salt.
Stir in Black Diamond shredded cheese.
In small bowl, lightly beat eggs; stir in Astro Plain yogourt, Beatrice 2% milk and Lactantia butter.
Add yogourt mixture all at once to dry ingredients; stir just until moistened (batter will be thick)
For each pancake spread 1 heaping tablespoon (15 mL) batter in hot, lightly greased fry pan.
Cook over medium heat until bubbles appear in the surface.
Turn and brown underside.
Pour honey over each serving and garnish with diced Black Diamond cheese (optional).