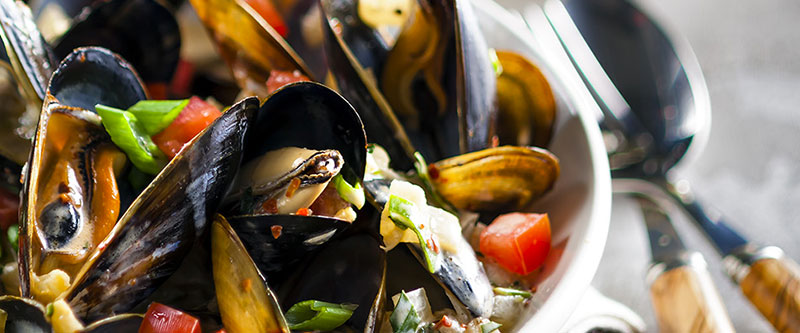 Mussels with Tarragon Cream Sauce
Total Time: 35 Mins
Prep Time: 15 Mins
Cook Time: 20 Mins
Serves: 2
Ingredients
2 lbs Mussels, rinsed and cleaned
3 garlic cloves, chopped
1 small onion, chopped
2 tsp chili flakes
1/2 cup white wine
1/2 cup Lactantia 15% Cooking Cream
2 tbsp fresh tarragon, chopped
1/4 cup tomato, diced
6 tbsp green onion, chopped
1 tsp salt
1 tsp pepper
2 cup solive oil
Directions
In a large pot, heat the olive oil.
Add in the garlic, chili peppers and onion and sautée for two minutes until lightly browned.
Add in the mussels, and stir to coat in the onion mixture.
Pour in the white wine and stir the mussels.
Cover the pot and let the mussels steam for about 8 minutes, until the shells open up.
Using a slotted spoon remove mussels and place on a serving platter.
Bring the liquid in the pot to a boil, season with salt and pepper, and tarragon. Reduce for a couple of minutes then add in the Lactantia 15% Cooking Cream.
Pour sauce over the mussels and sprinkle with chopped tomatoes and green onions.