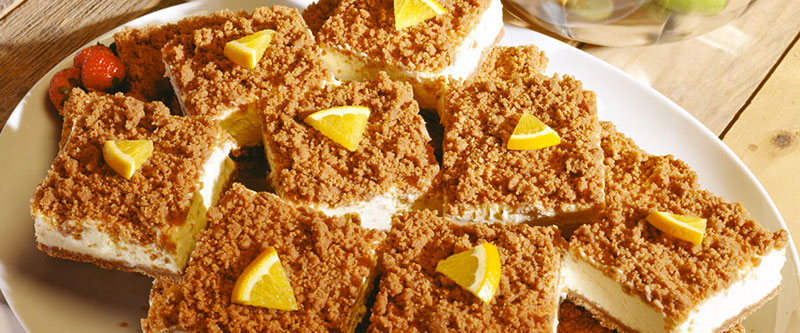 Lemony Cheesecake Squares
Total Time: 80 Mins
Prep Time: 20 Mins
Cook Time: 60 Mins
Serves: 24
Ingredients
3/4 cup Lactantia Butter, cold, cut into cubes
1/2 cup brown sugar, lightly packed
2 cups all purpose flour
1/4 cup cocoa
4 pkgs 8-oz blocks Lactantia Original Cream Cheese, cut into cubes
1 cup granulated sugar
4 eggs
1/2 cup freshly squeezed lemon juice
1 tbsp vanilla
Directions
Preheat oven to 350°F (180°C). In a food processor, whirl butter with brown sugar until mixed. Pulse in flour and cocoa just until mixture starts to come together. Set aside 1-1/2 cups (375 mL) to use as topping later. Press remainder into bottom of an ungreased 9X13-inch (3-L) baking dish. Bake in centre of preheated oven until crust is firm to the touch, about 15 minutes. Remove from oven and reduce temperature to 325°F (160°C).
While crust is baking, place Lactantia Original Cream Cheese and granulated sugar in food processor. Whirl until smooth, occasionally scraping down sides of bowl with a spatula. Add eggs, lemon juice and vanilla. Whirl until evenly mixed, scraping down sides as necessary. Spread mixture evenly over hot crust and smooth surface. Then sprinkle reserved 1-1/2 cups (375 mL) crumb mixture overtop. Bake in centre of 325°F (160°C) oven until filling is set when pan is jiggled, from 40 to 45 minutes. Remove from oven and cool on a wire rack.
When completely cool slice into squares. Squares will keep well wrapped and refrigerated up to 4 days or freeze up to 1 month.
Tips: