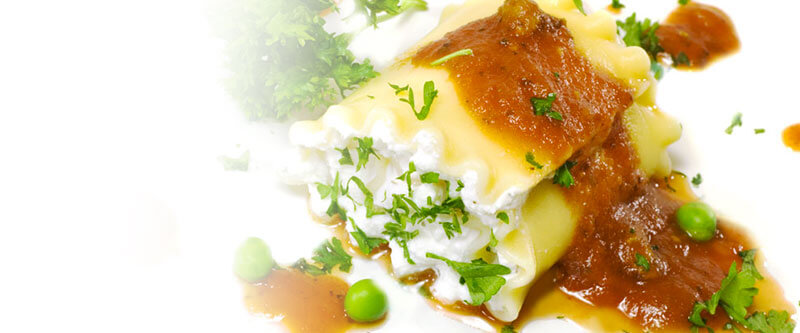 Total Time: 45 Mins
Prep Time: 10 Mins
Cook Time: 35 Mins
Serves: 4
Ingredients
8 regular lasagna noodles, not oven-ready
2 containers (8oz)Lactantia Spreadable Cream Cheese
1/4 cup freshly grated Black Diamond Parmesan
1 generous pinch each of freshly ground black pepper & nutmeg
1 cup tomato sauce
1 tsp dried basil
1/2 tsp dried leaf thyme
1 tsp granulated sugar
Directions
In a large saucepot of boiling salted water, cook lasagna noodles until al dente, about 10 minutes. Then drain and spread noodles on counter.
Meanwhile preheat oven to 350°F (180°C).
In a medium-size bowl, stir cream cheese with parmesan and generous sprinkles of pepper and nutmeg. Mix well until cheese is soft. Taste and add more seasoning if needed.
Spread 1/4 cup (50 mL) cream cheese mixture over each lasagna noodle. Roll up jellyroll style, then set seam-side down in a greased 9X9-inch (2.5-L) baking dish. Cover tightly and bake until hot, from 20 to 25 minutes.
Just before serving, stir tomato sauce with basil, thyme and sugar in a small saucepan. Gently heat, stirring often, over medium heat until mixture bubbles. Remove from heat and pour over lasagna rolls.
Serving Tip
Spoon about 2 tbsp (30 mL) sauce on each of 4 warmed dinner plates. Arrange 2 lasagna rolls on each plate. Drizzle with remaining sauce. Serve immediately