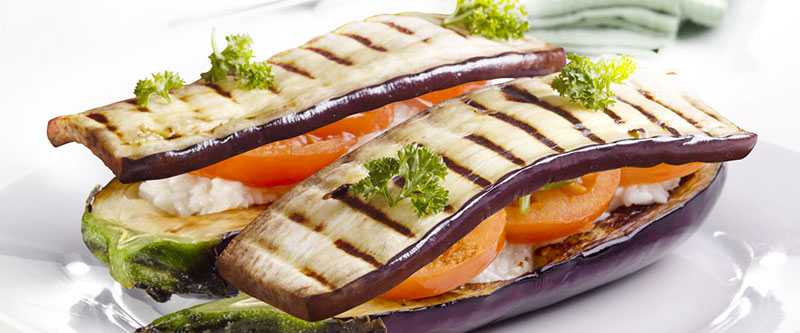 GREEK-STYLE EGGPLANT STEAKS
Total Time: 25 Mins
Prep Time: 5 Mins
Cook Time: 20 Mins
Serves: 4
Ingredients
2 large eggplants
2 tbsp freshly squeezed lemon juice
1/4 cup olive oil
1 tbsp granulated sugar
2 tbsp finely chopped fresh basil
12 fresh whole basil leaves for garnish
1/4 tsp dried oregano
1/2 tsp salt
2 garlic cloves, minced
2 tomatoes, cut into slices
1/2 cup Lactantia Light Cream Cheese
Directions
Grease grill and preheat barbecue to medium-high heat. Slice eggplants lengthwise, into 8 (1/2-inch/1- cm) thick slices. In a small bowl, whisk lemon juice with olive oil, sugar, basil, oregano, salt and garlic.
Brush lemon mixture over both sides of eggplant. Barbecue until grill marks appear on undersides and eggplant begins to soften, from 4 to 5 minutes. Brush with lemon mixture again, then turn. Dot each eggplant with Lactantia cream cheese, equally dividing it over each slice.
Continue barbecuing until grill marks appear on undersides, about 4 more minutes. Remove from grill. Cover 4 eggplant steaks with sliced tomatoes and 3 basil leaves each. Top with remaining eggplant, cheese-side down, forming a "sandwich".