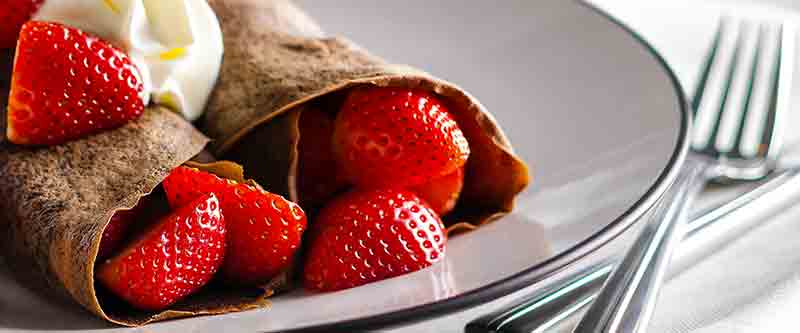 CHOCOLATE CREPES WITH STRAWBERRIES & WHIPPED CREAM
Total Time: 30 Mins
Prep Time: 15 Mins
Cook Time: 15 Mins
Serves: 6
Ingredients
375 ml Lactantia Dark Chocolate Flavoured Milk
2 eggs
½ cup all purpose flour
1 tbsp granulated sugar
Pinch of salt
2 tsp ground cardamom
2 tsp cocoa powder
1 tbsp canola oil
1½ cups sliced strawberries (¼ per crepe)
1 cup Lactantia 35% Whipping Cream
2 tbsp icing sugar, sifted
1 tsp vanilla extract
Directions
In a bowl, sift together the flour, sugar, salt, ground cardamom, and cocoa powder.
In a second bowl, crack the eggs, and whisk them with the Lactantia Dark Chocolate Flavoured Milk.
Make a hole in the centre of the dry ingredients, and slowly pour in the milk mixture, stirring until smooth.
Add in the oil and if lumps remain, strain through a sieve.
Let mixture rest for 10 minutes.
While the mixture is resting, in a standing mixer, attached with a whisk, whisk the cream until it starts to thicken. Slowly add the icing sugar 1 teaspoon at a time and then the vanilla. Stop the mixture when it forms stiff peaks.
Heat an 8" crepe pan on medium heat. Pour the crepe mixture into a measuring cup for easy pouring.
Spray the pan with non-stick cooking spray and wipe away with a paper towel, then pour enough crepe mixture to thinly coat the pan.
Once the crepe starts to become golden brown on the bottom, use a metal spatula and flip the crepe over and continue cooking for another 10 seconds or so.
Remove the crepe, and place a small piece of parchment paper on top of it. Repeat the cooking process, and place the second crepe on top of the first, with the parchment paper in between the two, to prevent sticking. Repeat.