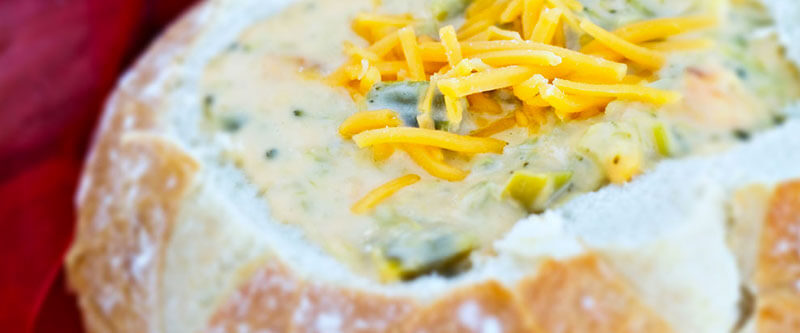 CHEDDAR BACON DIP IN TOASTED BREAD BOWL
Total Time: 45 Mins
Prep Time: 10 Mins
Cook Time: 35 Mins
Serves: 2
Ingredients
1 round loaf sourdough or pumpernickel bread
1 tbsp Lactantia Butter, melted
4 slices side bacon, cut up
1/4 cup finely chopped onion
1 clove garlic, minced
2 tbsp all purpose flour
1 tsp dry mustard
1 cup Beatrice Milk
1 1/2 cups shredded Black Diamond Medium Cheddar Cheese
1 tsp Worcestershire sauce or to taste
Directions
Slice the top of the bread; set aside. With a grapefruit knife, hollow out centre of bread, leaving a 1-inch (2.5 cm) thick shell; save bread from centre for another use. Brush inside of bread shell with melted butter and place bread shell and top on a baking sheet. Bake in preheated 350°F (180°F) oven 20 minutes.
Meanwhile, cook bacon in a medium saucepan over medium-high heat until crisp. Drain on paper towels then finely chop.
Add onion and garlic to bacon drippings in pan and cook until tender. Remove from heat. Blend in flour and dry mustard then gradually stir in Beatrice Milk. Cook and stir over medium-high heat until mixture boils and thickens. Remove from heat and add Black Diamond Medium Cheddar Cheese; stir until melted. Stir in Worcestershire sauce and cooked bacon.
Pour sauce into warm bread bowl and serve vegetables, bread sticks or crackers for dipping.