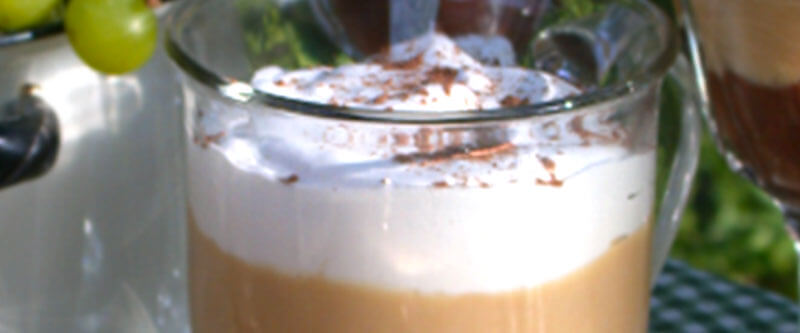 Total Time: 25 Mins
Prep Time: 5 Mins
Cook Time: 15 Mins
Serves: 4
Ingredients
2 cups Sentational Soy Smooth Original
½ cup very strong coffee – cooled
2 tbsp coffee flavoured liqueur, optional
3/4 cup white sugar
4 tbsp cornstarch
1 cup non-dairy whipped topping
Directions
In a medium heavy bottom saucepan on medium low heat, bring Sensational beverage to a simmer.
In a small bowl mix together coffee, liqueur (optional), sugar and cornstarch until smooth and no lumps appear.
Slowly whisk coffee mixture into simmering Sensational Soy beverage. Continue cooking over medium low heat, whisking until the pudding thickens. Remove from heat, transfer to a bowl and cover with plastic wrap so that the wrap sits directly on the surface of the pudding. Cool completely.
With a whisk, mix coffee mixture until smooth. Fold cooled coffee mixture into 1 cup whipped topping until well combined.
In parfait or clear glasses layer whipped topping alternately with coffee mixture, dividing evenly between the four dessert glasses. Let cool in refrigerator for at least 2 hours before serving. Garnish with cocoa powder, cinnamon, shaved chocolate or chocolate covered espresso beans.