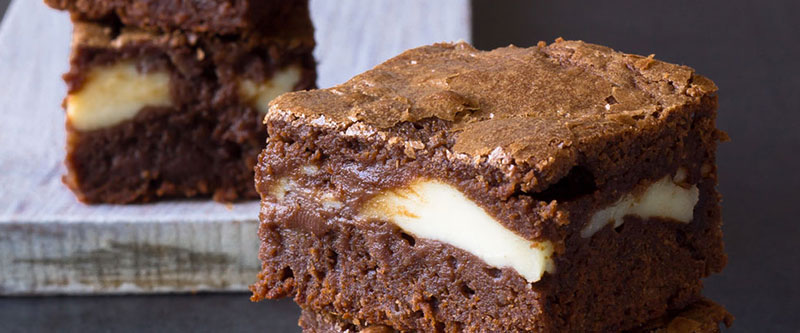 Total Time: 80 Mins
Prep Time: 20 Mins
Cook Time: 60 Mins
Serves: 16
Ingredients
1 1/4 cups granulated sugar
2/3 cup all purpose flour
1/2 cup cocoa
1/2 tsp baking powder
1/4 tsp salt
1/2 cup Lactantia Butter, melted and cooled
4 eggs
2 tsp vanilla
3 tbsp coffee-flavoured liqueur
3 tbsp cream-flavoured liqueur
8 oz Lactantia Original Cream Cheese
1/4 cup all purpose flour
1/4 cup brandy liqueur
1 orange
Directions
Preheat oven to 325°F. Lightly spray with vegetable oil or line an 8-inch square baking pan with parchment paper.
In a large bowl, using a fork, stir 1 cup sugar with 2/3 cup flour, cocoa, baking powder and salt. Make a well in the centre.
In a small bowl, whisk butter with 2 eggs and 1 teaspoon vanilla. Pour into well in flour mixture. Stir until combined. Divide mixture in half. Stir coffee-flavoured liqueur into one half of mixture. Stir cream-flavoured liqueur into remaining half. Set aside.
Cut cream cheese into cubes. In a large bowl, using an electric mixer or a wooden spoon beat cream cheese with 1 teaspoon vanilla until smooth. Beat in remaining 2 eggs. Gradually beat in 1/4 cup remaining sugar and 1/4 cup flour. Stir in brandy liqueur, then finely grate in peel from orange. Mix well.
Spread coffee-flavoured mixture in bottom of prepared pan. Smooth top. Pour in cream cheese filling, then smooth top. Dollop spoonfuls of cream-flavoured liqueur throughout batter. For a marbled effect, swirl the tip of a knife through some of the cream-flavoured liqueur mixture, pulling the dark batter through the white batter.
Bake in centre of preheated oven just until brownies begin to pull away from sides of pan, from 55 to 60 minutes. When cool, cut into squares. Brownies will keep well in the refrigerator for several days.